Anti-inflammatory Nasal Sprays And Drops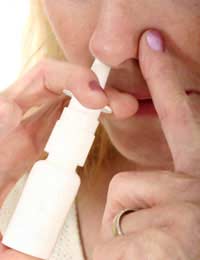 Anti-inflammatory nasal sprays and drops work virtually as their name suggests-they treat inflammation that occurs as part of hay fever. They also don't have the same potency as their oral counterparts and their effect is localised, which makes them much safer for use.
How Anti-Inflammatory Agents Work
Your body makes its own natural anti-inflammatory substance called cortisol. Anti-inflammatory sprays and drops work on a similar principle to treat inflammation in the body. They contain corticosteroids, which are based on cortisol but are altered to improve their effectiveness in treating hay fever symptoms. Anti-inflammatory nasal sprays and drops are typically only required in small amounts while still providing maximum effectiveness for your hay fever symptoms.
In addition, anti-inflammatory hay fever treatments are also rapidly metabolised, which means that they work to successfully relieve your symptoms but are broken down shortly thereafter.
Using Anti-Inflammatory Hay Fever Treatments
Anti-inflammatory nasal sprays are considered extremely effective at treating the sneezing, itching, soreness and watery discharge that occur as part of a hay fever reaction. Side effects are uncommon and this treatment works particularly well because it targets the nose, which is often the initial location of a hay fever reaction. They are frequently used as a first line treatment for hay fever and it is often only if they are ineffective that other treatments are then used.
Types of Anti-Inflammatory Drugs For Hay Fever
Some of the more commonly used anti-inflammatory drugs used to treat hay fever include:
Flunisolide
Budesonide
Fluticasone
Tips To Get Maximum Benefit
You can begin to use an anti-inflammatory nasal spray prior to the onset of symptoms-mostly as a preventative mechanism. If you begin using the spray several days prior to the anticipated onset of symptoms, you are more likely to prevent a progressive inflammatory reaction.
It's similarly important that you use preventative measures such as monitoring pollen counts so that you can determine when your hay fever symptoms are likely to occur. The more accurately you can predict when symptoms will strike, the better your chances of taking anti-inflammatory treatments to prevent your discomfort.
Side Effects
Side effects are usually not serious but you should be aware of them and if they do become too bothersome, see your doctor about alternate hay fever treatments. Side effects can include headaches and nosebleeds, which are uncommon but are slightly more serious and should be reported to your doctor.
Anti-inflammatory nasal sprays and drops can also affect the eyes and have been linked to glaucoma. Again, this is uncommon but it is a side effect you should be aware of-your doctor and pharmacist will provide more detailed information regarding side effects and cautions.
The inflammation that occurs from hay fever can be very painful and the visual appearance of swelling and redness also causes social embarrassment and distress. Talk to your doctor or pharmacist about anti-inflammatory nasal sprays and drops and you can determine if this treatment is appropriate for your hay fever symptoms.
Also remember that preventative care is still important and goes hand-in-hand with drug based hay fever treatments. By responsibly using anti-inflammatory treatments alongside a comprehensive preventative plan, you can both prevent hay fever symptoms and successfully treat those that occur.
You might also like...