Antihistamine Tablets Or Nasal Sprays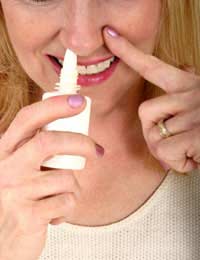 Antihistamines are one of the most common treatments for hay fever. One of their benefits is that they are available in tablets that can be taken once a day, which treats hay fever symptoms such as a runny nose, watery eyes, stuffed ears and a scratchy throat. Antihistamines are an effective treatment that targets many hay fever symptoms, so can be quite convenient to use.
Older vs Newer Antihistamines
It is typically recommended that you take one of the newer antihistamine formulations, mostly because the older versions such as chlorphenamine tend to cause heavy drowsiness. This can impair driving, work, school or any number of your usual day-to-day activities. The newer antihistamines, however, don't usually induce a sleepy state and won't affect your learning or driving abilities during the day.
Unless your doctor specifically advises an older antihistamine model to help you sleep at night, it is suggested that you use the newer versions. The only downside to newer antihistamines is that they are slightly more expensive but their effectiveness and fewer side effects do justify the cost.
How Do Antihistamines Vary?
Antihistamines vary based on their formulation (tablets or sprays) and also by their duration of action and required dosage frequency. Your pharmacist or doctor can assist you in choosing an antihistamine that appropriately targets your symptoms for the duration needed. Just because a label states that an antihistamine works for 12 or 24 hours, does not mean you need to take one that is so long acting.
Many people will only suffer symptoms when pollen counts are high and you may find that you only need a short-acting antihistamine to take prior to exposure during times of the day when the pollen count is high. It's usually best to take the lowest dose necessary to effectively treat your symptoms, as this will reduce the chances of side effects.
How Do Antihistamines Work?
Antihistamines work to block the release of histamine, a chemical that is released as part of your body's immune response to an allergen. The allergen can be virtually anything, but is commonly a substance such as pollen for those who suffer from hay fever.
Is A Spray or Tablet Better?
Both are effective but work somewhat differently. An antihistamine nose spray works quickly to soothe a sneezing, itching and runny nose. Most people will begin to feel relief within anywhere from a few minutes to fifteen minutes after administering a spray. Sprays are often just used on an as-needed basis and work for milder hay fever nasal symptoms. They aren't, however, as effective as tablets for targeting a wide range of hay fever symptoms.
Antihistamine tablets work well to ease most hay fever symptoms but then conversely, they aren't as effective as sprays for relieving pain and irritation in the nose. You may need to use a combination of a spray and tablets, depending on your symptoms and only under advice of your doctor or pharmacist.
Types of Antihistamines
Some of the commonly used newer antihistamine drugs that can be found in hay fever formulas include:
Acrivastine
Cetirizine
Loratadine
Desloratidine
Side Effects
Side effects aren't usually too bothersome, if present at all, but you may still experience one or more of the following side effects when using antihistamines:
Drowsiness
Dizziness
Dry mouth
Headache
Constipation
Alcohol should be avoided when taking antihistamines, particularly if you do take one of the older versions that tend to cause drowsiness.
Because antihistamines target the release of histamine, the chemical that contributes to your distressing hay fever symptoms, they work well to relieve symptoms in your eyes, nose, ears and throat. Ideally, you will treat symptoms immediately as they occur to prevent them worsening.
By putting off treatment, you will continue to suffer from symptoms and run the risk of increased susceptibility to hay fever complications. Speak with your doctor or pharmacist when selecting an antihistamine to ensure that you find the best formula to treat all of your hay fever symptoms.
You might also like...