Immunotherapy: Allergy Shots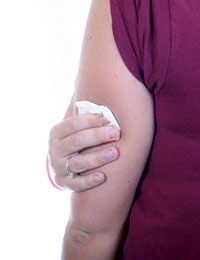 Immunotherapy Injections for Hay Fever
Many thousands of people in the UK suffer from hay fever and the symptoms can turn a blissful spring and summer into a nightmare of sneezing, coughing and sore, watery eyes. There are a variety of ways to help deal with the symptoms of hay fever, such as decongestants and anti-histamines, but it's true to say that the many options available to us at the moment generally combat only the symptoms of hay fever, rather than 'curing' the allergy to pollen itself.
The only treatment currently available that aims to cure the body of allergy altogether is immunotherapy. But it's not suitable for everybody, and there is a strong argument against it's use. So talk to your doctor or allergy specialist about whether it might be appropriate for tackling your hay fever.
What is Immunotherapy?
Immunotherapy aims to desensitise your body to an allergen – that means pollen in the case of hay fever sufferers. If your doctor recommends desensitisation, or immunotherapy, to manage your hay fever, you'll be given a course of injections of tiny amounts of your trigger pollen. This course of injections could last several years. You'll start with a single injection every week for about eight weeks. After that, the injections will start to take place every fortnight. Gradually, the injections will get further and further apart until you are having one every six weeks. You'll then keep up this pace for about three years. That's a lot of injections!
Over time, your doctor will increase the amount of trigger pollen you are given with each injection, so that your body slowly adjusts and gets used to it, realising that it is not a threat to you. It's when your immune system wrongly perceives pollen to be a dangerous invader that you get the allergic reaction and all the unpleasant symptoms of hay fever.
The Problems with Immunotherapy
Firstly, even doctors will admit that it's not really known how the process of immunotherapy works. So a lot of medical professionals are reluctant to use it. Secondly, a few people will experience bad reactions to immunotherapy injections. In particular, it's risky to give even tiny doses of allergens to people who suffer from severe allergic reactions and who might go into a potentially fatal anaphylactic reaction. As a hay fever sufferer, you are less likely to encounter this type of reaction, as for most people, hay fever is usually more of a nuisance than a danger to life.
Choosing Immunotherapy
Although it might sound like a wonderful idea to rid yourself once and for all of an allergy to pollen, immunotherapy is not a step to be undertaken lightly. But, if you think your hay fever symptoms are very severe, or if you find them difficult to manage with more routine treatments, you might want to discuss the suitability of immunotherapy injections with your doctor. Remember, you'll need to be in it for the long haul, and it might not work for you, but immunotherapy does offer our only current method of ridding the body of allergy, rather than just masking the symptoms of reaction.
You might also like...
lulu - Your Question:
I would like to know where can I get this injection for hayfever and how much is it please
---
Our Response:
ASk at your GP, they should be able to arrange this for you if you symptoms are appropriate.
HayfeverExpert
- 22-Apr-16 @ 12:08 PM
i would like to know where can I get this injection for hayfever and how much is it please
lulu
- 21-Apr-16 @ 11:39 AM