Steroid Injections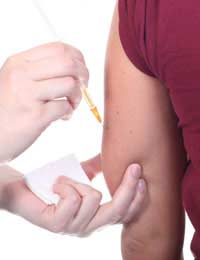 These days we're used to being able to get an injection to prevent a whole host of illnesses and other problems. So it's no surprise that many people wonder if they can get a shot to reduce or eliminate the symptoms of hay fever.
The good news is that there is an injection available that can help to counteract the allergic symptoms of hay fever. It's called triamcinolone, although you might find it listed under one of several brand names. It's a steroid injection so, although you might think it sounds like the answer to all your hay fever problems, it's not suitable for everybody and is usually only prescribed for occasional use or for very severe symptoms.
When Steroid Injections might be Prescribed for Hay Fever
Most doctors won't prescribe steroid injections as part of a routine course of hay fever management medication. It's usually reserved for hay fever sufferers who have a significant event coming up, when their allergy would severely impact their day – such as a big exam or a wedding.
One triamcinolone injection lasts for about four to eight weeks, depending on the dosage, so if given in advance, it can greatly improve the quality of life for hay fever sufferers on important days like these. Steroid injections might also be used for patients with extreme symptoms of hay fever that are aggravating other conditions, such as asthma.
The Potential Risks of Steroid Injections
Your doctor will help you weigh the risks associated with the use of steroid injections against the possible benefits to you. For example, steroid injections are unlikely to be suitable for patients with stomach ulcers, heart disease, diabetes or any kind of infection. Raised blood pressure, muscle weakness and water retention are among a variety of potential side effects. For these reasons, doctors do not give these injections lightly. As you might expect, the use of steroid injections to treat children or elderly people is also unlikely.
If you are Prescribed Steroid Injections
If, together with your GP, you decide that steroid injections could form a useful part of your defence against hay fever symptoms, you will find that your progress whilst receiving treatment is closely observed. You must ensure that your symptoms are frequently reviewed by your doctor. You'll also get a steroid treatment card, which will show details of your medication and the dosage that you're receiving. Keep it with you so that, if you have an accident or come down with an illness, any doctor treating you would know exactly what treatment you're having.
Weighing your Options
Steroid injections are rarely a first line treatment against the symptoms of hay fever. Usually, they're only considered once other avenues have failed. There are pros and cons to combating your allergic symptoms in this way. But used with caution, steroid injections can be an effective way of controlling severe symptoms for some people. If you think your hay fever symptoms might be bad enough to indicate the use of steroid injections, you'll need to discuss all the risks and benefits with your doctor.
You might also like...
kenalog injection are not available on the NHS I'm going private for this as I can't cope with my eyes watering constantly anymore.
Keith
- 4-Aug-17 @ 7:09 PM
Hi there This season I have really bad Hayfever ... I'm miserable and my eyes are in a terrrible state. I had Kenalog injections a few years ago - they worked - antihistamines don't ! Any up to date advice welcomed as I'm about to get a Kenalog injection privately Thanks Tim
TimPH
- 9-Jul-17 @ 8:50 PM
I had this injection a couple of days ago as my hayfever is severe, I don't know how long it takes to work though. It was given to me through the NHS so it's still available.
Dmw
- 27-Jun-16 @ 5:48 PM
Which clinic I can go to get these injections in Basingstoke?
Adnan
- 7-Jun-16 @ 11:34 AM
you CAN get hayfever injection on the NHS still but it is VERY rare they will prescribe this.
war
- 16-May-16 @ 10:35 AM
You can't get heyfever injections on the NHS now anymore. Any info prior to 2015 is very outdated. It's something you either have to live with or emigrate.
Lifelong Heyfever Su
- 25-Jun-15 @ 11:23 PM
Hi, I wonder if you have any info on what type of injections they used to use for severe hayfever about 30 years ago. I know my mum was given three injecctions to keep in the refrigerator and to be injected at the surgery at three different times within three months. She had really bad hayfever and after the three doses, she hasn't had any issues at all. She was completely cured. I found another record online of similar doses. Does anyone know what these injections are called and whether there are still available in the UK?
MAB
- 15-Jul-13 @ 8:23 AM
Hi does anyone know how old you have to be to have the hayfever injection ?
elliemay
- 8-Apr-11 @ 3:42 PM