Steroid Nasal Sprays And Drops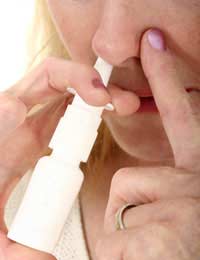 Steroid nose sprays and drops are among the options available for treating the symptoms of hay fever such as a persistently blocked or runny nose. They reduce inflammation in the nose and can significantly reduce discomfort but it's important to know a bit about them before you go ahead with treatment.
All about Steroid Nasal Medication
Steroid nasal sprays and drops are a useful treatment for tackling the congestion, sneezing, runny nose and itchiness associated with hay fever. They prevent these uncomfortable symptoms of an allergic reaction to pollen by preventing the chemical chain of events that leads to inflammation.
If you regularly suffer from hay fever, talk to your doctor long before you're likely to start needing hay fever medication. That's because if your doctor prescribes a steroid spray or drops for you, it's best to start using them a week or two before your hay fever season starts. Of course, that depends on the pollens that you are personally allergic to; some people suffer more in the spring, while others have more symptoms during high or even late summer. Remember that it can take a few days for steroid medication to start working to relieve your symptoms, so don't expect to get immediate relief.
Work with your doctor to find the lowest dose of nasal steroids to control your symptoms. You might find you need to take a higher dose right at the start of the hay fever season, but can then go down to a lower, maintenance dosage.
Side Effects of Nasal Steroids
Steroid nose sprays and drops can cause dryness and bleeding inside the nose. If this happens to you, stop using your steroids for a few days and consult your doctor, pharmacist or allergy specialist.
Potential Dangers of Steroid Remedies
Taken in large doses, some steroid medicines have the potential to cause undesirable side effects like high blood pressure. But steroid nasal sprays and drops are very unlikely to cause serious health problems, because they're delivered straight into the mucous membrane of your nose, with only a very small amount of steroid medication reaching the rest of your body.
Remember though, that steroid sprays and drops are medicines and should only ever be used under the guidance of a doctor. In particular, steroid medications may not be suitable for children, so never allow a child to use medicines prescribed for you, or for another adult.
Rest assured that steroid nasal medications are NOT the same thing as anabolic steroids, the potentially dangerous substances you might have heard some body-builders use to bulk up muscle.
How to Use your Steroid Nasal Drops
It's important to learn how to insert your nasal drops correctly. If you don't, they might not get to the area they need to reach, and won't help to alleviate your symptoms. Here are some methods:
Kneeling Method

Kneel down if you can and bend right over. Get your head so that it's almost upside down. Your drops need to get right to the back of your nostrils and also to the upper side of the inside of your nose. Once you've put the drops in – perhaps a friend or family member could help you if you find it tricky – remain with your head back for a couple of minutes so that you can be sure the drops have hit their target.

Lying Method

Lie down on a bed with your head falling back off the end. Be gentle with yourself, you don't want to hurt your neck. You'll need to get your head upside down as the drops need to hit the upper side of the inside of your nose as well as the back of the nostrils. If you find it difficult to put the drops in once you're in this position, it can be useful to have someone on standby to help you.
Don't ever put in your nasal drops just by tipping your head back while you're standing or sitting down. The drops won't hit the top of the inside of your nose, and are unlikely to get right to the back.
How to Use your Steroid Nose Spray
Sit down and tilt your head as far forward as you can. Holding the bottle upright, insert the tip into a nostril, pointing straight up. Close the other nostril with your hand. Give the number of sprays prescribed and breathe in as you do so. Don't sniff vigorously, or the spray is likely to whizz past your nose straight into your throat if you do so. Repeat with the other nostril.
Getting What's Right for you
There are a variety of options open to you and your doctor when it comes to treating your hay fever symptoms. If your doctor prescribes steroid nasal medication for you, make sure you know exactly how and when to take it, so that it gives you the best possible relief.
You might also like...