Leukotriene Receptor Antagonists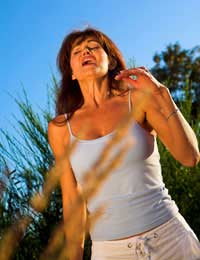 For people who suffer from hay fever it can be frustrating when trying to find the right treatment to handle hay fever symptoms. Common over-the-counter remedies are effective for many people but others find that their symptoms are still flaring up, causing the painful symptoms characteristic of hay fever and resulting in missed days at work and a reduced quality of life. Leukotriene receptor antagonists are a newer class of medications for treating hay fever. In addition, they also treat asthma, which can occur alongside hay fever. They are considered a highly effective medication and are also long-lasting drugs.
How Do Leukotriene Receptor Antagonists Work?
To understand how they function, it's important to understand what happens to your immune system when you are exposed to an allergen. When you are exposed to an allergen such as pollen - usually from inhalation or skin contact - your body treats it as an invader. While pollen would be harmless to most people, in a person who is allergic to pollen, the body essentially overreacts by releasing a chemical called histamine, which is the main chemical mediator of the immune reaction. Leukotrienes are another chemical released and together with histamine, they cause inflammation in the nasal passages, throat and eyes. This leads to the distressing sneezing, runny nose, bloodshot eyes and itchy throat and face that hay fever sufferers experience during an allergic reaction.
A leukotriene receptor antagonist blocks the leukotriene receptors, thereby rendering the effects of leukotrienes useless. This relieves symptoms of hay fever, particularly with regards to a congested nose. For those who also suffer from asthma, which is more likely the case if someone has hay fever, a leukotriene receptor antagonist can also block leukotriene receptors in the lungs, which relieves the breathing difficulties that occur in those who suffer from asthma.
Side Effects
Leukotriene receptor antagonists are generally well tolerated. They are oral medications and will usually take maximum effect after approximately three hours of ingestion. Two commonly prescribed leukotriene receptor antagonists include:
Most people will require only one dose a day because they are quite long-lasting and effective drugs. Side effects are not common but those that may occur include:
Headaches
Gastrointestinal upset
It's also important to note that some leukotriene receptor antagonists can be less effective when taken with food. Your doctor or pharmacist will provide instructions on how to take your medication and will explain any parameters related to dosage timing and food. Your doctor can also provide a more extensive explanation of any side effects to be aware of and how to proceed if you do experience any side effects.
Leukotriene receptor antagonists are not considered a first line treatment for hay fever. They are more likely to be prescribed if common over-the-counter medications and preventative strategies have been proven ineffective for managing your hay fever symptoms. In particular, those who have taken measures to minimise exposure to pollen but still find that their symptoms are severe and regular, causing missed days at work or school, may find benefit from leukotriene receptor antagonists. If other methods are not proving successful, speak with your doctor about this newer class of medications. Leukotriene receptor antagonists may provide effective relief from your hay fever symptoms, allowing you to reduce or even eliminate your congested nose, sneezing and watery eyes.
You might also like...