Rebound Nasal Congestion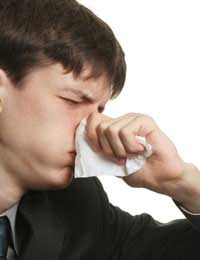 The Causes and Cures of Rebound Nasal Congestion
One of the most common and most unpleasant, symptoms of hay fever is a stuffy, bunged up nose. It's uncomfortable, irritating and can make breathing, speaking and even sleeping a major chore. But before you choose which treatment to use to relieve hay fever symptoms, make sure you're aware of any potential side-effects – like rebound nasal congestion.
Why your Nasal Spray can make your Symptoms Worse
Rebound nasal congestion can happen if you frequently use a nasal decongestant to make breathing through your nose easier. It's a condition also known as drug-induced rhinitis. In other words, the treatment can, if you're not careful, actually make your hay fever symptoms worse. The problem then starts to go into a downward spiral as you start to use your nasal spray more and more often.
Why does this Happen?
Nasal sprays tell the blood vessels in the nose to contract. By doing this they reduce the amount of blood flowing to the lining of the nose. This means that the tissue in this delicate area becomes less congested and mucous production slows down. The problem is that after several days of using your nasal spray, you might find you need more of the treatment, more often, to get the same result, and that congestion gets worse quickly once your medicine starts to wear off.
How to Stop the Cycle of Rebound Nasal Congestion
Unfortunately, the only way to stop rebound nasal congestion once it has you in it's grip is to stop using your nasal spray completely, for at least a week or two and possibly for several months. Your doctor will be able to advise you on this. You might find your GP recommends the oral medicine pseudo-ephedrine to help you through the worst of the symptoms or, for the most severe cases, oral steroids might be prescribed. Don't try to self medicate, as it's easy to make symptoms worse instead of better.
Using Decongestants over the Long Term
If you're used to using decongestant medication for your hay fever, remember that they don't do anything to actually 'cure' your allergy. They just help to relieve the symptoms. Sadly that's true of all allergy medication. That's why decongestants are not a good long-term solution to a badly blocked up nose. In fact, if left unchecked, rebound nasal congestion can result in polyps that block nasal passages and have to be surgically removed – an unpleasant situation that's best avoided!
Alternatives to Decongestant Nasal Sprays
To get advice that's right for you and your pollen allergy, you must talk to your GP, pharmacist, or allergy specialist. But before you bin your nasal spray, remember that used over the short term, according to your doctor's instructions, you shouldn't have a problem using a decongestant nasal spray, and you might find they greatly relieve your hay fever symptoms. But if you find you need more relief, talk to your GP or allergy specialist about the use of saline sprays, oral medication or even steroids to control your nasal stuffiness, and have you breathing more easily.
You might also like...
I recently had a rhynectomy for sac since the operation I have been suffering from a severe blocked nose any body offer any advice
terrypops
- 8-Jun-20 @ 7:32 PM
Anna- Your Question:
Been addicted to sudafed blocked nose spray for about 3 months. I have threw my bottle away. I'm on day four with no spray at all and as soon as I stopped using it my nose as stuffy it lasted a night and then the second night I noticed one side gets clogged if I lie on the opposite side it was ill unblock but it causes a vicious circle all night my nostrils take it in turns to be blocked and whatever side is blocked there's a horrible pressure feeling in my nostrils that's goes with th blocked feeling when I turn on the opposite side.This also happens when I'm sitting.When I stand for a short while both unblocks.Can someone please tell me if I have damaged my nose or if it might be a sinus infection or mabey its normal for rebound congestion?everything iv read about it says both nostrils blocked?I'm really worried
---
Our Response:
The best thing to do would be to get your GP to take a look and give you some advice. They'll be able to tell whether there is an infection and if not, give you some advice on ways to treat the blockage without using the spray.
HayfeverExpert
- 9-Jan-17 @ 10:47 AM
Been addicted to sudafed blocked nose spray for about 3 months. I have threw my bottle away. I'm on day four with no spray at all and as soon as I stopped using it my nose as stuffy it lasted a night and then the second night I noticed one side gets clogged if I lie on the opposite side it was ill unblock but it causes a vicious circle all night my nostrils take it in turns to be blocked and whatever side is blocked there's a horrible pressure feeling in my nostrils that's goes with th blocked feeling when I turn on the opposite side.This also happens when I'm sitting.When I stand for a short while both unblocks.Can someone please tell me if I have damaged my nose or if it might be a sinus infection or mabey its normal for rebound congestion?everything iv read about it says both nostrils blocked?I'm really worried
Anna
- 7-Jan-17 @ 4:32 AM