Hay Fever and Pregnancy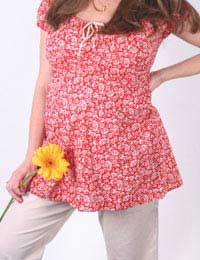 Although there are many hay fever treatments available they unfortunately can't all be used during pregnancy. Some women are lucky and find that their hay fever symptoms ease off during a pregnancy. Others, however, struggle to treat the painful symptoms and worry about the safety of hay fever medication. By using care and caution, you can successfully handle your hay fever while still maintaining a healthy and safe pregnancy.
Decongestants
Decongestants are an effective hay fever medication that helps to clear your nose, but they aren't generally recommended for use during pregnancy unless specifically prescribed by your doctor. There is still not enough evidence regarding their use so it's best to try one of the more commonly recommended hay fever medications first and to use decongestants only on the advice of your doctor or pharmacist.
Antihistamines
Antihistamines work to relieve the effects of a chemical called histamine, which is released during an allergic response to common allergens such as pollen. Antihistamines aren't usually recommended for use during pregnancy but the older ones can be taken under your doctor's advice and supervision. It may seem confusing to be recommended an older one rather than a newer antihistamine, given that the older medications cause more drowsiness. The rationale is that the safety of older antihistamines has been assessed whereas there is still much unknown regarding the newer antihistamines.
Anti-inflammatory Drugs
Anti-inflammatory drugs tend to have corticosteroids as a main ingredient. They work throughout the body to relieve inflammation, but do so primarily in the nose. Most anti-inflammatory drugs for hay fever are safe to use during pregnancy if used for short periods of time. Be sure to follow all label directions carefully and do not go over the recommended dose. It's actually ideal to try a lower dose first, which means you're using the lowest dose to meet your needs and effectively treat your hay fever symptoms.
Non-Medication Prevention
It is during pregnancy that non-medicating treatments for hay fever become more important than ever. By avoiding your allergen as best you can, you will reduce the symptoms and reduce the need to use medications. Since most hay fever sufferers are allergic to pollen, it is recommended that you avoid the outdoors when pollen counts are high and that you try to avoid early mornings and evenings, when pollen counts go up. Small changes, such as washing hair and clothes frequently and using air conditioning instead of opening windows, can really make a difference in preventing your exposure to pollen. It's also helpful to consider enlisting the help of a friend or family member to vacuum regularly and keep dust in your house down to a minimum, particularly towards the final trimester of your pregnancy.
Pregnancy is a time of many changes and excitement but it can also bring fear and worry regarding medications to treat hay fever. For some, it can be overwhelming coping with hay fever when you may also be dealing with the many physical changes of pregnancy. Try to minimise your exposure to allergens as best you can, and also see your doctor about appropriate medications to take if symptoms do still occur. You can safely treat your hay fever symptoms and instead, put your focus back on the arrival of your baby.
You might also like...