Oral Allergy Syndrome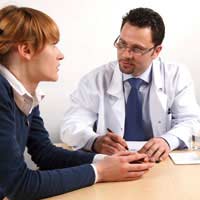 Hay fever, though rarely a dangerous condition, can make the sufferer fairly miserable, especially during the summer months when everyone else is having fun outside. But to make matters more irritating still, some hay fever sufferers develop allergies to particular fruits, vegetables and nuts too. It's called the pollen food allergy syndrome or oral allergy syndrome.
If your hay fever symptoms usually arrive in early spring and you start to experience itching and swelling of the mouth, lips and tongue immediately after you eat fresh vegetables or fruit, you might have oral allergy syndrome. It's an allergic reaction that occurs in hay fever sufferers. You're much less likely to experience a reaction to the same foods if they are cooked.
For most of us, the risk of this allergic reaction being anything other than a minor irritation is unlikely as few people experience really severe symptoms. But be aware that if your oral allergy syndrome is triggered by nuts, seafood or eggs, the risk of a severe allergic reaction is greater than if your problem is fresh fruit or vegetables.
What are the Symptoms of Oral Allergy Syndrome?
Look out for redness, itchiness and swelling of the inside of the mouth, the tongue and the lips. Some people also get a blotchy rash. Sometimes sufferers experience an itchy swelling of the throat.If you ignore these localised symptoms and continue eating the trigger food, a runny nose, heartburn, nausea and even vomiting can follow.
Which Pollens Trigger Oral Allergy Syndrome?
You can be allergic to many different kinds of pollen. Some people are bothered by one type, other people by a totally different kind. That's why people get hay fever symptoms at different times of the year. So it's no surprise that several different kinds of pollen allergies can be connected with oral allergy syndrome. The one most likely to be the culprit though, is birch pollen. It's quite common for people who get hay fever symptoms as a result of birch pollen to get oral allergy syndrome. It's most commonly noticed after eating raw apples.
Who is at Risk?
Adults seem to suffer from oral allergy syndrome more often than children. If you have a pollen allergy, or hay fever, it's possible that you might get oral allergy syndrome too. But sometimes the symptoms are so mild, people don't even notice they have it.
Treating Oral Allergy Syndrome
Although most people only experience mild to moderate symptoms as a result of getting oral allergy syndrome, you must talk to your doctor before deciding on any course of treatment. It's important to discuss your symptoms with a professional as, in rare but extreme cases, oral allergy syndrome can trigger a potentially fatal anaphylactic reaction.
But in most cases these are the treatment options that you might find work for you:
Avoidance:

It's still the case that the simplest, most effective way to prevent allergic reactions is to avoid the trigger substance. This isn't always easy, or fun, and only you will know how to manage avoidance as part of your everyday life. It could even be that if your symptoms are very minor, that you prefer to just take it in your stride. But do talk to your doctor or allergy specialist about this as no allergy should be taken lightly.

Antihistamines:

These are very commonly used to treat the symptoms of all sorts of allergic reactions, including oral allergy syndrome. They work by preventing the production of histamine by the body, which stops a full blown allergic reaction.

Desensitisation Injections:

These can be an effective treatment against the symptoms of oral allergy syndrome. Such injections are also known as immunotherapy and they involve having regular injections to build up your tolerance to an allergen.
What's Right for you
If you're a hay fever sufferer, you're probably already well used to taking precautions to manage your allergy to pollen. So, if you think you might be prone to oral allergy syndrome too, use the same sensible approach to manage this condition. Remember, always consult your doctor or allergy specialist about your particular symptoms.
You might also like...