Enjoying The Outdoors Without Hay Fever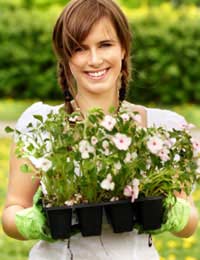 When hay fever strikes, particularly on a frequent basis, the last thing you may want to do is go outside, for fear that hay fever triggers, such as pollen, will leave you feeling miserable. Unfortunately, it's also the spring and summer months-the very months you want to be enjoying the outdoors-that hay fever tends to peak. Is there a way to still reap the fun and benefits of outdoor time without suffering from the runny nose, bloodshot eyes and itchy throat that are characteristic of hay fever?
The answer is yes, but it requires a little bit of pre-planning for prevention and also the use of medication as required. Your specific hay fever triggers will first need to be addressed and medications will need to be chosen based on your sensitivity to the allergen and the severity of your hay fever.
Pollen Counts
The highest pollen counts are in the early morning and late afternoon, so focusing your outdoor time for other times of the day can be helpful. Also, plants will often release pollen in hot and windy conditions, which freely disperses the pollen and can trigger hay fever. As such, try to get the most from outdoor days when it's not too windy. Each morning, check locally for the pollen count and enjoy your time outside when the count is lower.
A Note For Gardeners
If you're an avid gardener and suffer from hay fever, you may feel spending time outside just isn't feasible, but that's far from the case. As with any outdoor activity, you can limit your gardening to times of the day when pollen counts are lower.
Also consider purchasing a pollen mask, which will protect your nose and mouth from inhalation. These masks are quite cheap and are an easy way to reduce exposure to outdoor allergens.
Medications
Medications are an important line of defence in addressing hay fever symptoms. For many people, medications mean the difference between going outside as opposed to staying inside the home.
Decongestants, antihistamines, nasal sprays and eye drops can all help to treat hay fever symptoms, allowing you to enjoy your time outside. For those who find that medications and careful avoidance of triggers is not helpful, allergy shots may be successful in reducing symptoms so that more time can be spent outside.
Other tips to prepare you for the outdoors:
Hang clothes to dry on an indoor line or in the dryer. Don't dry them on a line outside because they will collect pollen spores, which will increase your allergy symptoms throughout the day.
Avoid outdoor activities such as mowing the lawn during the times of the day when pollen counts are highest.
Make sure that you keep your allergy medications on hand at all times when you are outside.
For most people, a combination of preventative measures and medications will allow them to enjoy the outdoors with minimal or no hay fever symptoms. You are not alone in your struggle to combat hay fever and fortunately, there are many options and treatments available to allow you to spend more time outside and less time worrying about your hay fever.
You might also like...