Understanding The Pollen Count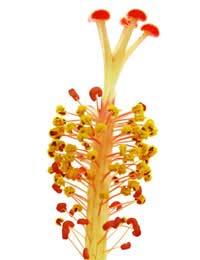 During the summer months it's common to hear weather forecasters talking about the pollen count. It's an important factor to consider if you suffer from hay fever, as pollen is usually the key culprit in triggering hay fever attacks. The pollen count tells us how much pollen is in the air. But how exactly does it work and what do all the numbers mean?
What is the Pollen Count?
The pollen count examines the amount of a particular type of pollen grain in an air sample, measure per cubic metre. To smooth out blips, it averages this number over the 24 hour period of a day.
Why is the Pollen Count Important?
Although a few hay fever sufferers are allergic to mould spores, for most of us it's an allergic reaction to pollen that causes the runny nose, watery eyes and bouts of sneezing. So knowing how much pollen is in the air on any given day is crucial to managing your hay fever symptoms.
About 95% of hay fever sufferers in the UK are allergic to grass pollen. The season for grass pollen starts towards the end of May and goes through to August, peaking in June and early July. But the amount of grass pollen floating around in the air can differ widely from region to region, from day to day and even from hour to hour if the weather changes.
Pollen Count and the Pollen Forecast?
The pollen count is simply the number of pollen spores per cubic metre of air. These samples of air are gathered around the country. The traps that collect the air samples are placed at a height so that they collect pollen that's in the air in the immediate vicinity, and pollen that might be blowing in from further away.
You might also have heard people refer to a pollen forecast. This takes into consideration the pollen count in predicting whether or not hay fever sufferers are likely to experience bad hay fever symptoms.
How does the Pollen Forecast Relate to the Pollen Count?
The pollen forecast is often given as being low, moderate, high or very high. Most hay fever sufferers start to experience symptoms when the pollen forecast is moderate.
To be classed as low, there must be 30 or less pollen grains per cubic metre of air
Moderate is 30 to 49 pollen grains per cubic metre of air
High is 50 to 149 pollen grains per cubic metre of air
Very high is 150 or more pollen grains per cubic metre of air
The pollen forecast can also be given as a number that indicates the risk of experiencing hay fever symptoms. If you get hay fever, you'll be looking out for a pollen forecast of 1 to 3, which means that there's a low risk that you'll get hay fever symptoms on that day. A score of 8 to 10 means most people with an allergy to pollen will experience hay fever symptoms.
Managing your Hay Fever
Although neither the pollen count not the pollen forecast can do anything to change the amount of pollen that's in the air, they do enable hay fever sufferers to plan around the most difficult days. For example, if you must leave the house, you could take your medication before you go outside, close the windows and keep air conditioning on instead, or avoid going out during peak times of the day.
You might also like...