How To Avoid Pollen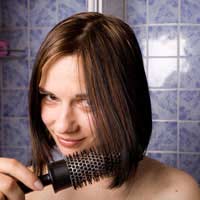 If you suffer from hay fever chances are high that pollen is a key allergen for triggering your symptoms. Short of never going outside again, there are ways to avoid pollen and still enjoy time outside without suffering from hay fever symptoms. Most experts agree that avoiding an allergen is top on the list for preventing an immune reaction to the offending substance. The frustrating aspect of this statement is that it tends to imply a rigid and unpleasant way of living that simply isn't manageable for most people. Fortunately, there are realistic ways to avoid pollen.
Pollen Counts and Peak Times
You can usually obtain information about the pollen count from a local weather channel, radio program, newspaper or local online weather site. Try to make the most of days when the count is low so that you can comfortably limit time outside on days when the pollen count is high.
Also, try to avoid the times of day when the pollen count peaks, which is during early mornings and late afternoons. Windy days can also prompt hay fever symptoms because the wind easily carries pollen and makes it more likely you will come into contact with the pollen.
Air Conditioning
For those who have air conditioning, try to use it as much as you can during the warmer spring and summer months. This will allow you to keep windows closed while still remaining cool. It's also important to ensure that all of the filters are kept clean. If you're driving, keep windows closed and use your air conditioning when pollen counts are high or if you're driving during peak pollen times of the day.
Frequent Washing
Because pollen can cling to clothing, skin and hair, many hay fever sufferers find that frequent washing helps to keep their exposure down to a minimum. Launder clothing regularly and if you have just come in from the outdoors, consider changing clothes right afterwards. Washing hair regularly can also help, particularly as it keeps pollen away from the nose and mouth. Don't hang clothing outside in the spring and summer months. Instead, use an indoor line or a dryer.
Gardening
Avid gardeners can really struggle to care for their gardens when hay fever symptoms leave them feeling miserable and congested. You can, however, purchase a special mask that reduces your exposure to pollen. Alternately, follow the guidelines for avoiding days with high pollen counts as well as limiting outdoor gardening time during early mornings and evenings.
A Note on Hay Fever Medications
Although medications are important for treating hay fever symptoms and preventing them from escalating, the best initial line of defence is to avoid pollen to the best of your ability without letting that avoidance ruin your enjoyment of the spring and summer months. The better you prevent hay fever symptoms through avoidance of the allergen, the less medication you will need, which means fewer side effects and interactions to worry about.
Since avoidance of all pollen just isn't feasible, your best option is to limit your pollen exposure. By implementing realistic changes, you can prevent hay fever symptoms and put your focus back on enjoying the warmer days.
You might also like...