Vaccines for Hay Fever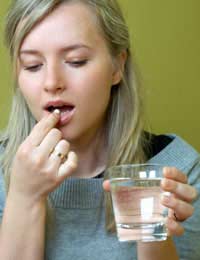 One of the challenges of hay fever treatment is that even effective treatments can still require ongoing administration. Having to constantly use various sprays or other styles of medication delivery can be a daily annoyance. If you are regularly plagued with hay fever, your medications may need to be on hand at all times during the day - in the office, at home or out for a walk. In this sense, even when you find a successful treatment, it can be frustrating having to always have the medication on hand. Vaccines for hay fever, however, can help with the irritation of a regular dosing schedule, particularly with the newest form that is a pill.
Pill Vaccine for Hay Fever
A new vaccine for hay fever has been developed in an easily swallowed pill form. Recent study results showed that it performed better than traditional antihistamines and nasal sprays. In fact, the pill vaccine reduced hay fever symptoms by approximately thirty percent in sufferers. The pill is administered for a minimum of eight weeks prior to and during the warmer summer months, when pollen counts can leave hay fever sufferers struggling with painful symptoms each day.
Understanding the Hay Fever Pill Vaccine
This form of vaccine is actually a type of immunotherapy that is successful at treating hay fever triggered by the different types of grass pollen. It uses extractions of timothy grass to coax the body into attaining a tolerance to the protein known to set off hay fever symptoms. Through the exposure to the minute amounts in the pill, hay fever sufferers can build up a tolerance that allows them to enjoy the warmer months without the dreaded itchy skin, watery eyes and running, congested nose that are characteristic symptoms of hay fever.
One of the benefits to the pill form of a hay fever vaccine is that most people simply prefer a pill to an injection. It feels less invasive and is more comfortable for many people to take in this form. However, pollen immunotherapy through an injection is longer lasting and typically provides several years of reduced symptoms after treatment is halted. Still, another benefit of the pill vaccine is that it is longer lasting than other forms of hay fever treatment such as a steroid nasal spray. This means that those individuals who are not comfortable with the idea of an injection may be quite satisfied with the level of relief and ease of administration with the vaccine pill for hay fever. The pill - known as Grazax - can keep hay fever symptoms under control through a simple, eight-week course of the medication.
NHS Approach to the Pill Vaccine for Hay Fever
At this time, the pill is generally recommended for hay fever sufferers who have not shown a favourable response to other hay fever treatments. The drug, however, is costly and the NHS is only funding use of Grazax in limited areas, which is frustrating news for hay fever sufferers who require the vaccine to get their symptoms under control. Generally, the pill vaccine is difficult to obtain in the United Kingdom (UK) and is more likely to be attained at a specialist allergy clinic and even then, only prescribed for severe cases of hay fever. Ultimately, the NHS has deemed the drug too costly to provide in anything but limited quantities.
Hay fever continues to plague enormous numbers of people in the UK and elsewhere around the world. As the number of people suffering from hay fever continues to increase each year, new treatments become even more important to handle the discomfort and pain of hay fever as well as the economic consequences that occur from missed days at work and compromised productivity. Hopefully, hay fever vaccines can be developed further as research continues. It is also hoped that the NHS reconsiders the merits of a pill vaccine and looks into improved ways of funding the treatment for those who require it.
You might also like...