How Alcohol Intensifies Hay Fever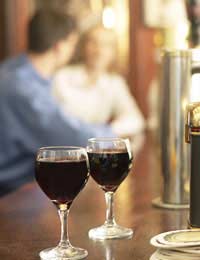 While most of us know that too much alcohol is generally not good for our health, it seems that alcohol has a negative effect in specific areas of health as well – hay fever. Researchers recently found that alcohol use is associated with hay fever.
Studying Hay Fever Sufferers
The study focused on Danish women and it found that the risk of hay fever increased three percent for each additional alcoholic beverage consumed each week. All of the women who were studied were aged twenty to twenty-nine. When the study initially began, none of them were actively suffering from hay fever. They were questioned about their lifestyle habits, which included how much alcohol they consumed.
The study followed the women's lifestyles for nearly nine years. It found that 831 women eventually developed seasonal hay fever while 523 of the young women experienced perennial hay fever. An important finding was that the greater the alcohol consumption of a woman, the more likely she was to develop perennial hay fever.
Analysing the Results of Alcohol Consumption
The study further found that the women who said they had more than fourteen alcoholic beverages each week were 78 percent more likely to end up with perennial hay fever when compared to the women who had less than one alcoholic beverage each week.
Perennial hay fever – known as perennial allergic rhinitis – has similar symptoms to seasonal hay fever but the symptoms occur throughout the year and are triggered by exposure to allergens often found indoors, such as dust and pet dander. The commonly shared symptoms of the two types of hay fever include a runny nose, irritated throat and itchy eyes. Many sufferers also report a general feeling of malaise.
Another finding from the study was that women who had at least one parent with asthma were more than twice as likely to develop perennial hay fever when compared to those with asthma-free parents. This finding indicates a possible genetic component of hay fever, which could then be triggered by lifestyle factors such as alcohol consumption.
Enhancing Knowledge of Hay Fever and Lifestyle Habits
It is thought that this kind of study can increase our knowledge on how lifestyle habits such as alcohol consumption influence the development of hay fever. At an even deeper level, these findings can yield clues to how our immune systems work and how alcohol plays a role in the hypersensitivity to pollen or indoor allergens.
Future Research on Alcohol and Hay Fever
One aspect of this research that will hopefully prompt new studies is that it was only performed on young women. As mentioned, the women in the study were aged twenty to twenty-nine but there are millions of hay fever sufferers of virtually all ages. For some people, handling hay fever has been what seems like a lifelong struggle right through to their older years. Although there are many successful hay fever treatments, some adults have still struggled for decades to find the right one for their hay fever symptoms.
Newer research will ideally look at the link between hay fever and alcohol consumption in men as well as in older adults of both sexes. With alcohol consumption being a very 'normal' part of the lifestyles of many adults, this study will perhaps prompt more research into how hay fever works and how we can better prevent its occurrence and treat its symptoms.
You might also like...
What sort of treatments have worked? And does heyfever ever go away?
Criz
- 17-Jul-15 @ 9:45 AM