Allergy Testing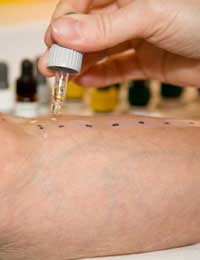 Skin testing is the most common method of allergy testing for hay fever. The ones you are likely to experience include the scratch test, intradermal test or patch test. They are all considered very safe and rarely will they result in any lasting irritation or discomfort. The amount of allergen applied is usually very small and it's unusual for a person to experience a reaction that involves their entire body.
Before Allergy Testing
There are various drugs that can interfere with the results but your doctor will indicate anything you need to avoid prior to the tests. If there is a particular drug you are taking that you must continue to take, a test may be performed to check if the drug will interfere with the allergy testing.
Patch Test
In the patch test, a possible allergen is applied to a patch and then placed on your skin. If your body is indeed sensitive to the allergen, it will respond with itching, irritation and redness on the skin. Patch tests aren't as rapid as scratch tests and are usually left on the skin for up to 48 hours in case there is a delayed reaction. You should be careful not to get the patch wet, so that it stays in place for the required test duration.
Scratch Test
The scratch test is also called the puncture or prick test. It's a straightforward test with minimal discomfort and is performed very quickly. A doctor will usually clean the test area first, with alcohol and then mark the area with a pen to allow him or her to identify the allergen that is tested. A single drop of each possible allergen, which could include allergens such as pollen, is then placed on your skin over the appropriate pen mark. Your doctor will use a disposable pricking instrument to allow the potential allergen to penetrate the skin. The skin prick itself doesn't result in bleeding and is painless.
Intradermal Test
The intradermal test is a somewhat modified version of the scratch test and it is also more sensitive. It involves an injection directly under the skin of the suspected allergen. The intradermal test may be done if the result from a scratch test isn't conclusive enough to aid your doctor in diagnosing your allergy.
After Testing
After allergy testing, your doctor will probably clean the skin again and apply a corticosteroid cream to address any swelling and irritation that resulted from the application of the allergen. If you had a patch test, you will be instructed to return in a couple of days to determine the results. Your doctor will use the results from all tests conducted to determine which substances you are allergic to and he or she will work with you to develop a treatment plan.
Allergy testing is important to help your doctor determine if a specific substance is causing your hay fever symptoms. Prevention and treatment can then be tailored so that you can avoid the allergen whenever feasible and also treat symptoms with appropriate medications or alternative remedies. With allergy testing, your doctor can more accurately determine what allergens cause your hay fever and you can obtain faster and more effective relief from your hay fever symptoms.
You might also like...