When To See Your Doctor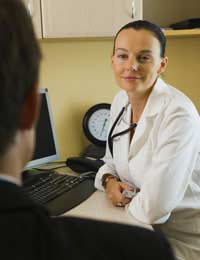 It's inconvenient, it's unpleasant and it's annoying, but thankfully, for most of us, hay fever isn't serious. But do you need to see your doctor about your hay fever symptoms? And which hay fever symptoms should you be most concerned about?
Every spring or summer you start wheezing, sneezing and rubbing your eyes whenever the pollen count is high. But even though you might be certain that you have hay fever, it's still a good idea to talk to your doctor about it and get a proper diagnosis. Your GP will make a note of all your symptoms on your medical record.
Hay Fever and Asthma
Hay fever is actually an allergy to pollen and it can have an impact on any other medical conditions you have, particularly asthma. Many people who have allergies, get asthma too. Though asthma is not an allergy in itself, asthma attacks can be triggered by an allergic reaction. Because asthma is a serious condition, it's important that if you get asthma you talk to your doctor about your hay fever symptoms too. Your GP might want to talk to you about taking extra precautions with your asthma during hay fever season.
Choosing the Right Medication
Most people will have tried some over-the-counter hay fever remedies before making an appointment with the doctor. If you decide to do this, it's well worth having a chat to the pharmacist. Your local pharmacist will be able to give you professional advice on the various options available.
When to Make an Appointment with the Doctor
If you've been taking over-the-counter remedies for your hay fever symptoms for more than a couple of months now's the time to talk to your doctor, so that he or she can check that the treatment you're using is right for you.
The Hay Fever Symptoms to Look out for
If your hay fever symptoms include wheezing, a tightness of the chest or a persistent cough, it could be that your hay fever is triggering asthma. If this sounds like you, you should definitely make an appointment to discuss it with the doctor.
Earache, discharge from the eyes (not just watery eyes, which are a very common symptom of hay fever) and facial pain could all indicate that you've got an infection as a result of your hay fever. These might need antibiotics to clear them up, so it's best to make an appointment with the doctor sooner rather than later.
Another key thing to keep in mind is how hay fever affects your sleep. If you have trouble getting to sleep at night, or if you wake up frequently with wheeziness, coughing or other symptoms, it's a clear indication that your hay fever is not being controlled properly by whatever medication you're taking. So this is another time to talk to your doctor.
How can the Doctor help?
It's a good idea to talk to your doctor about your hay fever for reasons of safety; your GP needs to know all about your state of health and the medication you're taking, both prescribed and over-the-counter. But your doctor can help you manage your hay fever symptoms too. You might be prescribed medicines that you couldn't otherwise buy. Your doctor might also want to discuss other methods of controlling hay fever symptoms with you, such as desensitisation injections.
You might also like...
For almost a year now I suffer with hayfever symptoms together with a cough that come and go. My chest weez and I use a pump because sometimes than not my chest feels tight. I am really worried , my dr send me for a lung xray but everything looked fine.My gynea told me a few months ago it sound like I might have asthma.I have used 2bouts of antibiotics for ear pain during this time. Can you please advise what my next step should be. Thankyou.
Desiree Petersen
- 30-Aug-16 @ 8:37 PM