Anxiety Disorders and Hay Fever Genetics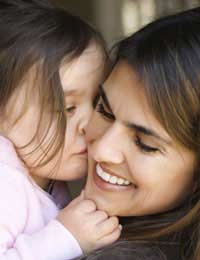 If you are one of the millions of people who suffer from hay fever, you may already know that allergies are more likely to occur within families, meaning that there is a genetic basis for hay fever. You might also be interested to know that a recent study suggested that mothers who suffer from depression or other anxiety disorders are more likely to have children who suffer from allergic conditions such as hay fever.
Allergies and Depressed Mothers
The study looked at parents of biological and non-biological children. Since it was the biological mothers of allergic children who suffered from anxiety disorders, the results showed that the link was indeed one with a genetic basis. The analysis of the results also showed what a significant difference there was for mothers who were depressed versus the non-depressed mothers.
Researchers found that there was a 67 percent higher likelihood of a mother who suffered from major depression to have a child who suffered from allergies such as hay fever. For those mothers who suffered from an anxiety disorder such as panic attacks, the analysis of the results showed a 46 percent higher chance of the mother having a child who suffered from an allergic condition. Overall, 31 percent of the children in the study had allergic disorders. These included hay fever, asthma, eczema and it also included food allergies, which are a common type of allergy. Since there was no significant link between mothers who suffered from depression and their non-biological children's likelihood of having an allergy, the researchers concluded that their study was particularly reliable in terms of showing the link between depressed mothers and allergic conditions in their biological children.
Long-term Implications of the Study
The implications for the study are enormous because they not only relate to hay fever - which affects enormous numbers of Britons and others around the world - but also the large range of other allergic disorders that plague children and adults. It would seem that depression, a difficult and distressing condition, not only benefits the sufferer when treatment is obtained, but could also benefit the biological child. This means that the consequences of untreated depression in a mother may ultimately be a lifelong struggle for those children who then suffer from an allergic condition such as hay fever. This isn't to say that there is a definite causative link but only that the link is there and further research should hopefully yield more information if depression in mothers is indeed one cause.
Understanding the Link Occurrence
Researchers are now trying to understand why this link occurs. The public are similarly curious to know how a depressed mother is more likely to have a biological child who suffers from an allergy. Researchers are not completely sure why this happens but they do have some theories about the link. One idea relates to mitochondria, which are found in your body's cells. In people with mood disorders such as depression or anxiety and panic attacks, there have been observations of mutations in the mitochondrial DNA. Since mitochondria are inherited in the child from the mother, these mutations may be passed on, with allergies such as hay fever being presented as the child matures. Another idea for the link between mothers and children with allergies relates to genetic imprinting. Our genes show up in different ways depending on the gender. This means that genes from a mother can express themselves differently in comparison with genes from a father.
The Importance of Research
For those who suffer from hay fever, this type of research is important because it looks at links that ultimately can teach us ways to try to prevent allergies. If you already suffer from an allergy, it may seem that the research is useless but in fact, it means that you can perhaps use this newfound information to treat your depression or anxiety disorder knowing that it is possible you have reduced the chances of passing on your condition to your future children. While a lot more research needs to be done, we are fortunate that there is a large focus on allergies, given how many people are affected by one or more allergic conditions each year. For now, hay fever sufferers should continue doctor-mediated treatment of their allergies and keep abreast of any new developments in the field.
You might also like...
Very interesting article. Excellent site for hayfever sufferers.
mandye
- 28-Mar-11 @ 12:49 PM